CITY PLANNING STRATEGY
Strategic Planning In Local Government ~
Want to get started on a strategic plan for your city?
---
Here's everything you need to know.
The Main Components & Examples ~
Your city's leaders have a clear plan for your city. Now you just need to implement it. That's the easy part, right? Not so much. Taking the grand vision statements and promises and turning them into real benefits for your community takes planning, execution, and a whole lot of hard work.
Building a city strategic plan sometimes seems daunting at first. But it needn't be. It's simply a process you can use to help balance the demands of all the constituencies in the community with the realities of a constrained amount of time and money. Yes, there are many things we want to do to grow and thrive as a community, but what do we need to do and when? That is the essence of strategic planning in local government.
Dr. Gerald Gordon put it best when he defined strategic planning as a "systematic process by which a community anticipates and plans for its future." The way to anticipate the future is through goal setting, and the way to plan for it is by setting the right activities to reach that desired future. A strong link between your city's goals and the activities of its employees is the key to a strategic plan.
A strong link between your city's goals and the activities of its employees is the key to a strategic plan.CLICK TO TWEET
What Is A City Strategic Plan?
Everyone does planning—and sometimes we get paralyzed by over planning. Each city department has its own plan and sometimes it is tough to see how it will all fit together. Wherever you find yourself, you know it's time for a solid citywide procedure, so you likely searched for "What is a strategic plan?" You've come to the right place.
The first step in creating a solid plan is to open the lines of communication. Include your staff, managers and directors, city council, and citizens. You'll want to engage your staff as much as possible to know your plan focuses on the right initiatives. Without everyone on board from the beginning, the strategy is likely doomed. So once you've established great communication, you're ready to start in on the five main elements of a citywide plan.
(Keep in mind that organizations might call these components by different names—and that's just fine. Figure out what terminology works best for your organization and go with it. Calling something a "goal" or a "strategic priority" doesn't matter as long as the meaning behind it is there.)
1. Core Mission
Your city's mission is the foundation of the plan; it shows what you do for the city, community, and citizens. This is a step that some people don't take seriously—but this is the main building block that will keep you focused from this point forward. We'd recommend that you look around at other municipalities that you respect or admire and find some things that you really like from them. Then take those components and some of your own, and come together with your staff and/or citizens to see if any or all of those components echo what they want to see. Finally, with all of this information in mind, you can finalize your core mission. All in all, the core mission should be a mix of some things your municipality is now and some things you want to become in the future. Everything else in your city strategic plan will need to tie back to this, so be sure it isn't too specific, and try to keep it concise.
2. Vision Statement
Your vision statement builds on the mission by stating what you are hoping to achieve in the future in order to reach your mission—so this is where you can start getting a little more specific. Try to take a similar approach to crafting the vision statement as you did for the core mission. Look at other vision statements you've seen and reach out to your staff and citizens. Determine where you want to be in 3-5 years (these should be the more practical goals) and also where you want to be 10-20 years in the future (these should be more audacious goals). This is where things can get exciting and fun. Some citizens will propose some far-fetched ideas—say, they'll want to host the Olympics! That may not actually happen, but it's neat to have your citizens thinking this way.
3. Strategic Priorities
Certain goals should be focused on above all others. During this step, you should pick five or six priorities that, if accomplished, will guarantee that you execute your strategy. (These can be called "strategic priorities," "goals," or "objectives.") You'll want to have only 5-7 strategic priorities which will allow you to focus on achieving your core mission statement and vision. The following are often considered strategic priorities for many municipalities:
Economy
Neighborhood livability
Health & Safety
Transportation
Culture & Entertainment
Efficient and high performing government
Again, you'll want to step back and be sure to involve both your citizens and your staff at every level of this process. Be sure to think about what things are really going to help you achieve this vision.
4. Communication & Rollout Plan
Everyone—from employees to citizens—needs to understand how they fit into the city's strategic plan. If you've involved your staff and citizens in steps 1-3, this fourth step is so much easier.
First, understand that people need to be able to explain your strategic plan back to you in very simple terms to ensure its effectiveness. A really good example of this comes from a STAT meeting I recently sat in on. I saw that someone from the fire department—who wasn't the fire chief—was presenting. He was third or fourth in command. He explained how the department fit within the strategic plan of the city in very simple terms, demonstrating a strong knowledge of the subject.
Altogether, this process should be extremely transparent. Consider weight loss for a moment: If one of your goals is to lose 20 pounds, it's a great idea to tell some people about that plan, so they can keep you honest. The same is true for a city strategic plan. You should be able to put it out there and express where you want to go and what you want to do—this acts as an additional motivator and a source of accountability.
5. Accountability
You'll need to establish numerical goals to know if you are on track. To do this, it's important to select the right key performance indicators (KPIs) that will inform your priorities and goals directly. The KPI selection process is a very important one—but in the first year or so, you may not have the right ones. For example, if you notice that your KPIs are all green, but your goals and priorities aren't improving, you may need to go back to the drawing board with your KPIs. You could have the wrong measures, or the targets may not be aggressive enough.
Typically, when you set priorities, you'll set them for the municipality as a whole. Some organizations will take the additional step of setting up a scorecard for each department right off the bat, and others will expand into departmental scorecards after some experience at the city level. The department's unique priorities should be represented, but be sure that there are elements that tie back to the city level to ensure clear alignment.
Strategic Planning In Local Government: 4 Real-World Examples
Cities have started to adopt the same strategic planning process as the private sector over the last few years. With tightened budgets, it's critical that city governments can accomplish as much as possible with fewer resources. Here are four government strategic plan examples you can learn from:
Germantown, TN
What's special about the City of Germantown's strategic planning process is its corporate-style approach. This Tennessee city views citizens as customers and city services as "goods" provided to their customers, which keeps the focus on citizen priorities. For example, instead of saying, "We need a new park," the city takes the attitude of, "The citizens need a place to connect, exercise, and enjoy the outdoors." Using outcomes as a starting point, Germantown creates its priorities and shapes its strategy. Their results won them an Excellence Award from the esteemed Tennessee Center for Performance Excellence in 2017.
There is another unique element of Germantown's planning process worth noting. The city did an excellent job organizing citizen focus groups as part of the "Germantown Forward 2030" vision plan. It formed an internal, 30-person steering committee (consisting of staff from across departments) to gather citizen input, assembled a citizen task force, and made sure planning stayed on track.
Continue Reading: City of Germantown: Building, Implementing, and Executing a Strategic Plan
Fort Collins, CO
The City of Fort Collins, Colorado, provides a great example of how to perfect the strategic planning process for your government over time. The city started with a large number of measures that were reviewed by an equally large group of staff. It then refined the planning process until only the most important key metrics were reviewed by the right stakeholders. From there, the focus shifted toward examining the key outcomes, strategic objectives, and initiatives that drove progress on the key metrics. City leaders went through several iterations to get the plan just right, realizing the process was an evolution.
One particularly successful tactic Fort Collins used was to incorporate their departments into the planning process. Core strategic planning team members met regularly with department heads to get feedback and make adjustments to the plan, ensuring it worked for everyone involved. The result? The city has strong buy-in across the organization and everyone understands how their departments contribute to Fort Collins' long-term goals. This high-touch, personal approach of involving every department in the process was integral to Fort Collins' success.
Continue Reading: Achieving the Fort Collins Vision Through Effective Performance Review
Fort Lauderdale, FL
To activate its ambitious, community-driven vision plan, the City of Fort Lauderdale, Florida has embarked on a sweeping new program of strategy management. In the process, the city has embraced performance measurement with equal parts discipline, dedication, and passion.
One of the biggest takeaways from Fort Lauderdale is how the city prioritized gathering citizen input. The vision plan, two and a half years in the making, was systematically developed through extensive community outreach: interviews, open houses, telephone town halls, and a social website. In total, the city collected 1,562 ideas from highly invested neighbors. The outreach efforts and feedback helped create a very citizen-centric vision plan. Fort Lauderdale is now confident that its priorities are based on what's important to its citizens.
Continue Reading: From Vision To Action: Fort Lauderdale's Strategy Management Journey
Durham, NC
The City of Durham, North Carolina, engaged in two rounds of their performance management execution program. The first focused on developing a strategic plan that emphasized data-driven decision-making and advanced the city's goal of transparent, civic-minded government. Durham's fervent attention to performance measurement and monitoring helped the city align its spending and activities with strategic priorities. This alignment helped them partner in unprecedented ways with Durham County.
Yet, there was no central ownership or organized way to hold users accountable for keeping strategic performance data up to date, necessitating another round of performance management execution. For this second phase, Durham was very deliberate about assigning roles and responsibilities. The city also formed an Office of Performance and Innovation to spearhead the strategic planning process and help employees understand why performance is so important to the government's success.
Continue Reading: City of Durham: Strategy Refresh & Organization Buy-In
8 Things To Keep In Mind For Strategic Planning In Government Organizations
1. Involve your stakeholders.
This could be your staff and/or your citizens. If you go through the whole process without their input and then your staff or citizens don't agree, you've created a headache for yourself. Being open and inclusive during the strategic planning process for your government is vital to its success.
2. Be bold, but realistic.
Feel free to set aggressive goals, but keep a realistic mindset. Again, if one of your citizens suggests hosting the Olympics in ten years, you should be thrilled with their enthusiasm—but still aware that this may not be something that will actually happen.
3. Don't be afraid of your weaknesses.
Sometimes organizations are tempted to create comfortable strategic plans, so they don't fall short of their goals—but this is a mistake. Great strategic plans have a mix of things the municipality does really well and things it doesn't do well. This is also important, so your citizens can see you have a good perspective on what is going well and what isn't going well within the community.
4. Don't neglect your strengths.
On the other side of the coin, you should be sure to include several things that your organization does well in your strategic plan! Even if your municipality excels in a particular area already, there's always room for improvement.
5. Don't go in alone; seek out help when needed.
One of the great things about the municipal space is that most cities will share a lot of information. If you see a municipality with a really great strategic plan, don't be afraid to reach out to them and learn from what they're doing. Putting yourself on an island will only hurt your municipality.
6. Keep your focus on the long term.
There will be times that are both difficult and frustrating when you're leading and implementing something this large. But once you get things up and running, it will pay off—so just keep going!
As part of that focus, don't be afraid to make changes to your planning process when you need to. If something isn't working, adjust it and keep going. (Remember how Fort Collins executed multiple iterations of its process.) Don't abandon your strategy—focus on changing it for the better.
7. Avoid scope creep.
Don't lose sight of your long-term goals by letting your strategic plan slide into operational tasks. Scope creep can infect the strategic plan for your department or entire organization—you might notice that you're tracking certain measures just because it's easy or someone has asked you to…but with no tie to strategy. Avoid the creep by periodically reviewing your strategic plan to be sure the right goals are in place and all the projects you're undertaking and measures you're tracking directly align to those goals.
8. Don't let your strategic plan sit on a shelf.
Once you've created your strategic plan, you can't leave it alone to gather dust. Set expectations for what information needs to be updated, and how often you will report on your progress, in addition to getting that all-important buy-in and making sure everyone understands why strategic planning in government organizations is so important.
Keep In Mind…
The most important thing is to just get started! Remember, you don't have to be a master at strategic planning, and the process will never be entirely perfect. Even cities that win awards for their strategic management weren't always winning awards. They were simply consistent in their processes and were flexible to adapt and learn.
Also, most citizens won't fault their local government for putting forth an honest effort to be better than they currently are. If you're communicating with your citizens and communicating internally—and you're being honest about where you are now and where you'd like to be in the future—your citizens will be grateful.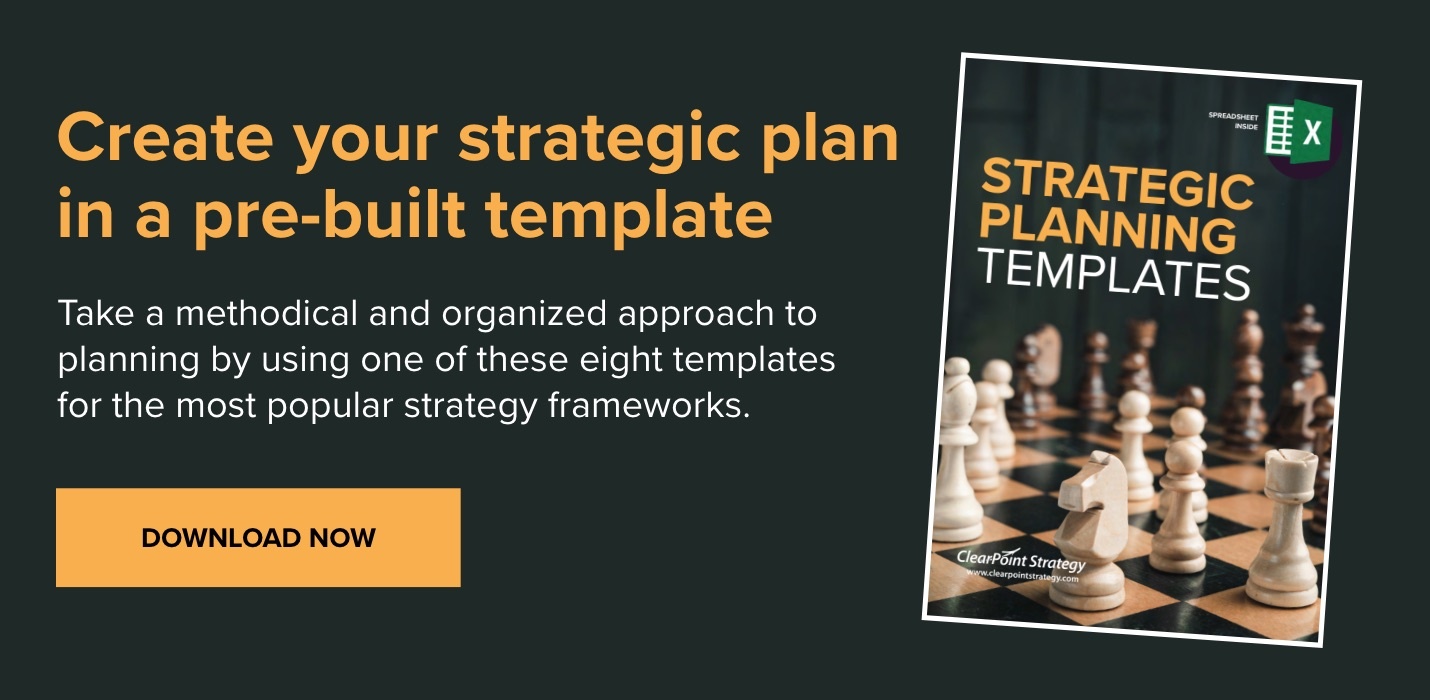 READ NEXT
---